Your go to arborist company in burnie
Tree Service Burnie
Need expert tree removal Burnie? We are the best arborist in Burnie, Tasmania.
03 6316 7931
Thank you! We will get back in touch with you within 48 hours.
Oops! Something went wrong while submitting the form.
Tree Services Burnie TAS
Choose the leading tree service company in Burnie for all your arborist services.
If you are after an expert tree removal service that specialises in all things tree services Burnie, then we are an unbeatable choice for you. We are the top-of-the-industry best tree service company servicing the entirety of Burnie and North West Tasmania, including Smithton, Ulverstone, and Latrobe, with a team of highly trained arborists that deliver high quality tree cutting and removal. Tree care runs deep in our blood and DNA, which is why we have made it our mission to provide our area with tree care services that exceed all expectations. This is why we are always upgrading to the latest technology, hiring the best arborists in the industry, and levelling up our skills in everything tree health related.

Burnie Tree Service is the most recognisable name in the area, offering a comprehensive range of arborist services including tree removal, emergency tree removal, stump removal, stump grinding, tree trimming, tree pruning, branch cutting, tree surgeons, and more. No matter how big the job is, we have the manpower and equipment to handle it. We can handle taking down the largest of trees, even the ones that are in close proximity to your home! It's our experience as arborists and our passion for trees that really sets us apart from anyone else in the game. For any of your tree service needs, big or small, reach out to our experts today!
Why we are the leading tree service Burnie
Highly Knowledgeable & Experienced
It's our expertise and knowledge in the industry that makes our tree service team superior to any other. Our entire team is highly trained, extremely knowledgeable, and can handle any job that you have for us, no matter how difficult it may be.
Fully insured & licensed
We are a team of fully licensed and insured arborists that are very careful in all the work we do. In case of an accident however, we have you covered for any liability and damages that may occur. You can rest easy knowing that you have picked the safest tree service company in Tasmania.
Passion for tree care
The reason we have become so fluent in everything tree health related is because of our love and passion for tree care as a whole! We hate to say goodbye to trees, but sometimes it is necessary. That's why you need a company who handles the removal of trees in Burnie with a safe, environmentally friendly approach.
Free quotes and affordable tree service costs
All of our quotes are given with no cost and no-onligation, meaning you can assess what is best for you and your budget. We offer some of the most competitive tree service prices around, making it very affordable for all households!
Best tree removal burnie
About Burnie Tree Service
Burnie Tree Service is committed to providing you with the safe, efficient, and affordable tree services in Burnie. Our company is 100% Australian owned and operated, with a strong presence and base in the Burnie community. It's our love for the community that has grown us into the trustworthy, reliable, and sought-after company that we are today. Starting out as just a 2-man band, we have now grown into a 20+ employee operation, each of which is as skilled and passionate as the next. We train all of our Burnie arborists to expert levels, to assure the safety of you and your property as well as the health of your trees and greenery around your home. It's this level of training along with our fleet of vehicles and equipment that allows our company to handle the difficult tree removal jobs that most other companies simply can't do.

By choosing a fully licensed and insured certified arborist, you can expect only the best service down to the very last detail. We complete the job to perfection, safely and responsibly dispose of the wood waste, and make sure to always clean up after ourselves so you aren't left with a big mess. Because no one job is the same, we come out and visit you before any work takes place to assess the situation and give you a free, no-obligation honest tree service quote. If you're looking for a tree removal arborist to get the job done right the first time, then give us a call today!
FREE QUOTE
Affordable Tree Removal & Tree Services in Burnie
CALL US NOW FOR A FREE QUOTE
03 6316 7931
Looking to remove a tree on your property that has either gotten too big and poses a danger to you and your home? Maybe you need land clearing for other buildings or trees? Or simply a tree on your property has started to die? Well, you've come to the right place! We offer a comprehensive tree removal service for all types and species of tree, no matter how big or small.

We are incredibly well versed across all types of trees and know how to safely remove them from your home without causing damage the underlying yard or surrounding structures. We will carefully evaluate your trees to determine the risk and time it will take to remove the tree safely. With over 20 skilled employees and a massive selection of the latest tree cutting equipment and technology, your Burnie tree removal is in good hands! Next time you find yourself asking where the best tree removal near me is, you know who to call.
Large Tree Removal
Needing large tree removal in Burnie? We can handle the removal of even the largest of trees and the most difficult tree removal needs you have. Our team can safely remove hazardous trees from your property, even the ones that are above 30 meters tall. No matter how close it is to your home, we can safely dismember each section and transport it to be disposed of responsibly. You should never attempt large tree removal of any sorts on your own, always hire a tree removal Burnie professional to do the job correctly.
Emergency Tree Removal
Fallen tree in Burnie? We are available 24 hours a day, 7 days week for 24/7 emergency tree removal. When storm season comes around, even the most unlikely trees to fall can be snapped or dislodged from their roots caused by storm damage. Our team take these calls seriously and know how important it is to have a reliable tree team come out and remove the storm damaged tree as quickly as possible. For 24 hour emergency tree services, Burnie Tree Service are your reliable, prompt, and professional solution!
Commercial Tree Removal
If you are a commercial property owner or the owner of a business and in need of commercial arborists, our team can come out and remove the tree from your premises swiftly and safely. We understand the needs of both residential and commercial property owners alike, and have helped hundreds of commercial properties remove the trees from their yard. For expert commercial tree services in Bernie, give us a call!
CALL US NOW!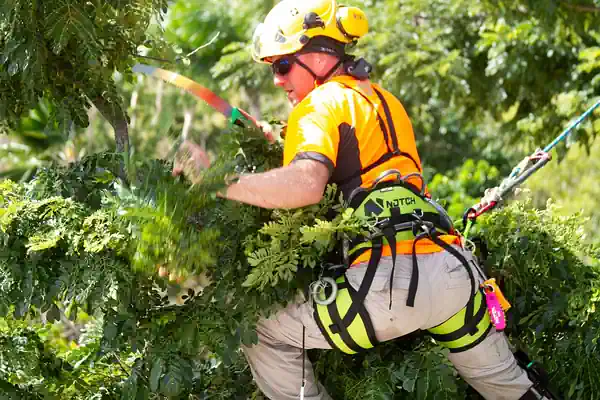 100% certified in Arboricultral practices and Australian standards, we are the leading Burnie tree pruning service for all your pruning and trimming needs. If your trees are in desperate need of a tidy up or require urgent health care, then our Burnie pruning services are your answer. We help prune and trim back overgrown trees so your tree can be left as healthy and aesthetically pleasing as can be. Don't risk property damage or injury caused by poor tree maintenance, hire a qualified tree pruner to do the job correctly! The next time you're looking for trusted tree pruning Burnie, give our expert arborists a call.

When should you trim your trees?
Trees come in such a large range of species and types, and each will have their own growth pattern and schedule for trimming. In general, if you want to prune to stimulate healthier growth, then late winter and early spring tree pruning is your best option. The further the tree is pruned during the winter months, the more it will flourish in the spring.

If you are unsure of whether your tree needs a trim, then give our team a call to ask!

Top reasons for tree pruning
Correct tree pruning is essential for optimal tree health and sustainable tree care. Without proper maintenance, the limbs and branches can fall damaging your home, vehicles, or family members. Incorrect pruning can cause disease and irreversible damage to your tree that results in it's untimely death. Hiring a qualified pruning arborist that is highly skilled and knows how to correctly prune the limbs and branches is the only way to assure optimal health!

CLICK TO CALL!
Our stump removal Burnie service is here to help you completely remove your stump from any area of your yard. If a tree stump is left to rot in the ground after removal of the tree, its roots continue to steal important water and nutrients from the surrounding plants, shrubs, and bushes.

Leaving a tree stump behind can prove to be a massive headache in the long run for property owners, as its roots can continue to grow causing issues like cracked pavements, dead plants, and a trip hazard. Not only that, but it just makes your yard look plain ugly, creates an unnecessary obstacle when trying to maintain the surrounding grass, and makes any further developments on the land a challenge.

That's where we come in! Our Burnie stump removal services can completely eradicate the stump and all its roots, clearing your yard of the unsightly stump and making sure the roots don't cause problems down the line. Our team have all the stump grinding equipment needed to safely remove and dispose of the entire tree stump from your residential or commercial property.
Stump Grinding Burnie
Stump grinding is the process of grinding the remaining stump of the tree down to a level where the root system is cut off from its life source, causing the roots to die and no longer consume the important nutrients in the soil that should go to the rest of the garden. Our Burnie stump grinding service is equipped with the most powerful stump grinders on the market, meaning we can break down even the toughest of wood and stubbornest of stumps.
ENQUIRE TODAY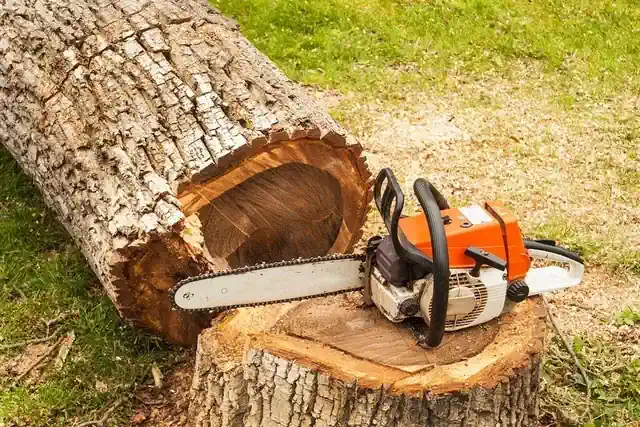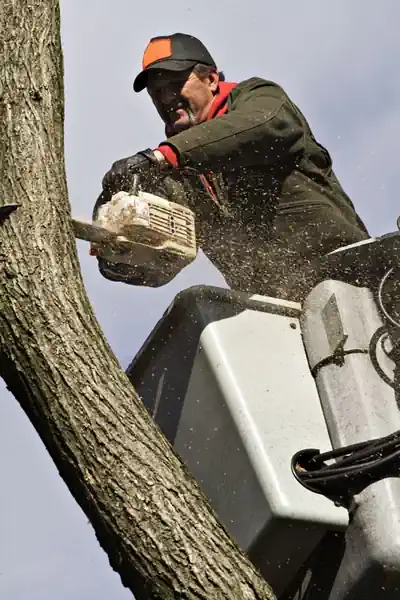 Arborists Burnie - Why Our Tree Surgeons?
Our company provides a variety of arborist services and help for our customers in the North Tasmania area. From tree trimming Burnie to stump removal, our customer service and arborist excellence is second to none. If you are looking for a company you can rely on for your next tree felling, then you have come to the right place.

Much of our success is due to degree of quality that we put into every job that we do, which has spread like wildfire through recommendations and word of mouth. We believe that customer service is the key component to our company's legacy, which is why we strive for unmatched greatness with every single job we do. Our customer list just keeps on growing and growing year on year, and our amount of return customers means the world to us. It's our mission as a company to make sure that our fellow residence receives burnie tree maintenance unlike any other.

It's almost impossible to ask, "where is the best tree service near me", without Burnie Tree Service being said in the same sentence! We offer a complete service from quote, to job, to clean up. It's safe to say that for all your Burnie arborist needs, you are in good hands!
FREE TREE SERVICE QUOTE
Top Tree Service FAQ's
What is the cost of tree removal Burnie?
What is the process of removing a tree?
Can I remove a tree by myself?
What happens to the stump after my tree is removed?
What areas do you service?
My tree is dying. Can it be saved?
What are the signs that a tree needs to be removed?
Testimonials
See for yourself how much our customers love our tree service in Burnie! We are so proud of all our 5 star reviews and thank every one of our customers past, present, and future!
I couldn't be happier with the guys from Burnie Tree Service. They were quick to respond to my email, provided a fair price, and were able to schedule the work at a time that was convenient for me. The crew was professional and efficient, and my yard was left cleaner than when they arrived. Highly recommend!
Toppest of blokes. I've used these guys for several years now, and they always do a great job. Whether it's trimming my trees or removing a dead one, they are reliable, professional, and reasonably priced. Plus, they always clean up after themselves, which is a huge plus in my book
I had a huge mango tree that was threatening to fall on my house, and I called Burnie Tree Service for help. They were able to remove the tree safely and efficiently, and even ground down the stump. The crew was friendly and knowledgeable, and their equipment was top-notch. I would definitely use them again in a heart beat,
I was nervous about hiring a tree service company, but Burnie Tree guys exceeded my expectations. They were patient in answering all of my questions and explaining the process, and they went above and beyond to make sure that the work was done to my satisfaction. I appreciate their attention to detail and would recommend them to anyone looking for tree services