Tree Services Latrobe
Looking for tree services in Latrobe? We are the best arborist in Latrobe, Tasmania.
03 6316 7931
Tree Service in Latrobe, Tasmania
Are you after an experienced, trusted, and local tree service team in Latrobe? Choose us at Burnie Tree Service.
If you are looking for a team of arborists in Latrobe who are safe, experienced, and highly knowledgeable, then the team at Burnie Tree Service is your best choice. Our extensive skills runs deep within the arboristry industry, specialising in tree removal, tree pruning, tree care, and tree maintenance. It's our mission to ensure the health and wellbeing of not only your trees and forestry around your property, but also the property itself is safe from damage.

We tailor our approach to suit your needs and requirements to ensure you get the tree care that you desire. If you need a tree pruned, branch removed, or an entire tree lopped, our team will listen to exactly what it is you are looking to achieve and working with you to achieve it successfully.

Our team utilisies state-of-the-art equipment and follows all the best industry practices to deliver the highest of quality tree maintenance services to your home or business. We make sure to invest in the best, both employee wise and machinery wise, to ensure the standards of our work remain at an elite level.

The reason for our success as a company so far is the genuine care and passion we have for trees, and we inject these qualities into every job we do for our customers. Whether you require routine tree care or emergency assistance, Burnie Tree Service are here to take care of all your tree service Latrobe needs! Reach out to our friendly team to day to chat about your next arborist service in Latrobe.
Our Latrobe Tree Services
Looking for a one-size fits all solution to your next tree service? Here at Burnie Tree Service, we do it all! We pride ourselves on our comprehensive range of tree care services for your unique needs. From initial consultation, to job completion, we are here every step of the way to ensure your tree removal or pruning runs smoothly, safely, and is the most ideal outcome to save you money and headache.

Take a look at some of the services we offer to residence of Latrobe:
Stump grinding
Tree removal
Tree pruning
Tree trimming
Tree lopping
Tree surgery
Tree felling
Fruit tree pruning & harvest
If you have a tree that is overgrown, dead/dying, diseased, looks dangerous, or needs a tidy up, consult our Latrobe arborist professionals who will walk you through the best steps to achieve your desired result. We are passionate about ensuring your trees stay disease-free and pest-free so they can grow healthily for years to come. We want the best for Tasmania's forestry... they are a vital aspect in any landscape, providing shade, oxygen, and a natural beauty to our surrounds. At Burnie Tree Service, we will go above and beyond to make sure you are making the right decision for your tree and supply you with elite tree removal and pruning services!
FREE QUOTE
Affordable Tree Removal in Latrobe
CALL US NOW FOR A FREE QUOTE
03 6316 7931
As strongly as we care for our trees and want to see them flourish for years to come, there are instances when removing a tree is the only option on the table. If your tree is damaged, diseased, or at risk of causing significant property damage, hiring a professional tree removal service to cut down the tree is required.
When is tree removal necessary?
Infested with pests and diseases: When a tree becomes severly diseased or infested with nasty pests, it may be too late to save it and the only option is to cut it down. Always consult one of our arborists to see if it is absolutely necessary.

Danger to your property: If a tree is in close proximity to your home, business, or property and is suffering from structural instability.

Dead or dying tree: A dying or dead tree can not only look horrible but can also be a potential fall hazard.
At Burnie Tree Service, our team of arborists are equipped with the best machinery and training to handle all size tree removal jobs, no matter how big or small. Our crew can handle the massive 30 meter tree removal jobs, as well as the little tree cutting jobs too. We put an emphasis on safety of your home, safety of our team, and safety of the customer so you can rest assured knowing you are in good hands!
CALL US NOW!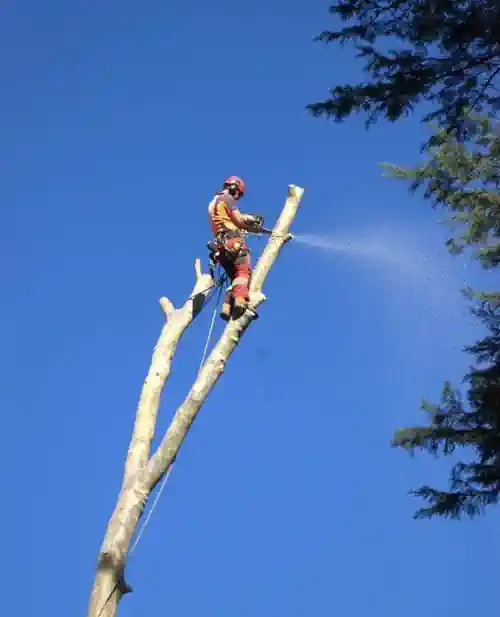 To keep your tree healthy, happy, and growing for years to come, you should ensure that it is tended to with expert tree pruning and trimming techniques that will allow it to get the most out of its lifespan. As Latrobes leading tree pruners, we know how to approach the pruning and trimming of every species of tree. Whether you need branches cut back, a crown reduced, branches removed from the way of powerlines, or any other tree pruning need, our certified arborists are your answer.

What are the benefits of tree pruning?
Tree pruning is very important for the health and longevity of any tree. It can enhance the trees aesthetics, improve your properties market value, reduce the potential for damages, and allow your tree to grow healthily for years to come. If you have a fruit tree, getting it pruned during the correct time of year can encourage substantial growth and blooming of tasty fruits! To ensure your tree has the best care possible, engage with our tree pruning services Latrobe.

What techniques for Latrobe tree pruning?
Crown reduction: We cut back to tree's canopy by pruning the outer branches, ideal for minimising the risk of storm damage or when a tree has outgrown the property it is on.

Crown Thinning: We trim back branches very selectively to maximise air and light penetration into the inner parts of the tree. this helps stimulate growth whilst maintaining it's aesthetics.

Crown Raising: We cut back the lower branches of the trees to make room for passing cars, pedestrians, or buildings.

CLICK TO CALL!
Here at Burnie Tree Service, we do your tree removal services Latrobe a little bit different to everyone else. We are a team full of genuine passion for our industry as well as the forestry in our beautiful town and surrounding areas that we service. It's our exceptional customer service and attention to detail that make many of our customers return for years to come. Whether you require stump removal, tree removal, or tree pruning, we get the job done better than anyone else in the industry. Our elite level of skills and techniques allows us to do a job that is fast, affordable, efficient, and reliable every single time.

We service everywhere from Latrobe, to Burnie, to Smithon, so no matter where you are located in Tasmania's North West, we can get a team out to you! Put your trust in the best tree cutting team in Latrobe for both your residential and commercial needs. No matter where the tree is located or how hard it is to access, we can get to it and do the job right. You can count on us for your next tree service!
ENQUIRE TODAY
FAQ's
What is the cost of tree removal Latrobe?
Will you clean my property after you're done?