Tree Stump Removal Services Burnie
If you've just had a tree removed and are now left with the stump, it can be a real eyesore to your property. We offer expert stump removal and stump grinding services to rid your yard of any ugly stump left behind. Our team of expert arborists specialise in all things tree services, and stump removal is a pinnacle aspect under that umbrella of services. We can remove your stump from just about anywhere it is located as we are equipped with different sized machinery for different sized jobs, from large stump grinders, to portable hand-held stump grinders. No matter how big or small your tree stump is, we have the ability to remove it.

Through the use of industry-leading techniques, we can completely eradicate your stumps in a clean and neat manner. Our skilled team is trained to follow strict safety procedures to assure that we don't damage any surrounding property or eco-systems in the process. No matter how complicated your stump removal job may be, we have the know-how to get it done right. For your next stump removal in Burnie, contact the best in the business!
CLICK TO CALL!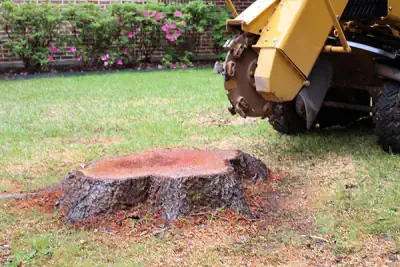 Benefits of stump Grinding Burnie
The roots of trees can cause significant problems. They have the potential to damage water pipes and foundations, crack pavements, lift cement, and create tripping and falling hazards (which can prove to be very costly!)
The presence of an old tree stump in your yard can be unpleasant to look at and can ruin the aesthetics of your garden, especially if weeds and other plants grow on it. There's no quicker way to bring the value of your home down then an ugly tree stump
Tree stumps can be situated in inconvenient locations, such as the center of your yard, which can limit the amount of space you have. Removing a stump can free up space and provide opportunities for expanding your home or garden.
Tree stumps can also pose various dangers and risks. They can attract insects like white ants and termites that can harm your property. Additionally, stumps can be fire hazards, trip hazards, and can make mowing your yard difficult.
Removing a tree stump without professional help can be challenging and may cause damage to nearby plant roots. It is best to leave the job to the experts. Give us a call!
Got a stump in a tight spot
Our team can remove stumps from even the tightest of spots, including retaining walls, garden beds, next to fences, planter boxes, and sensitive areas. We have portable and compact machines that can access the stump no matter how awkward of a position it's in. Our machines can get through side gates, narrow hallways, tight bends, and up stairs if need be.
How much does stump grinding cost in burnie?
The cost of stump removal Burnie depends on a few factors that our team will happily come out and assess for free. The factors include:
The size of the stump
The location of the stump
How many stumps are planned on being removed
How deeply rooted the stumps are into the ground
If you are looking for a reliable and expert team to come out and remove your stump safely, then look no further. Burnie Tree Service are the team to call!
Need Tree Stump Removal in Burnie?
CALL US NOW FOR A FREE QUOTE
03 6316 7931